Blur An Object In A Video
How To Blur An Object In A Video
If you are creating a video which features sensitive information, in an office or a documentary, censoring part of the video may be a better solution than deleting shots. Blurring objects lets you focus on the story without having to make awkward edits. Even faces can be blurred out thanks to the sophisticated tools built in to VideoStudio. Check out the guide below to learn more.
1.

Install VideoStudio

To install a 30-day free trial of VideoStudio video editing software on your PC, download and run the installation file above. Continue following on-screen instructions to complete the setup process.
2.

Open Track Motion

Add your video clip to the timeline and click the Track Motion icon on the toolbar. Alternatively, you can right click on the clip and select Track Motion from the list.
3.

Choose the type of Tracker

Set the Tracker type to a fixed area or a multi-point area. To set, drag the target over your desired object and set the size.

Set tracker as area - In this mode, you can choose a fixed tracking area. You will be able to select a bigger sample area and also enable boundaries for mosaic blur. Drag the edge nodes to customize the shape and size of the tracker.
Set multi-point tracker - Multi point area is dynamic which automatically adjusts the position and size of a object as it moves. Whether it comes near or far from the camera or switch viewpoint the tracker will be able to track. Click and move the corner edges to the inside of the of the object area you want to track. Mosaic blur will be applied by default for multi-point tracker.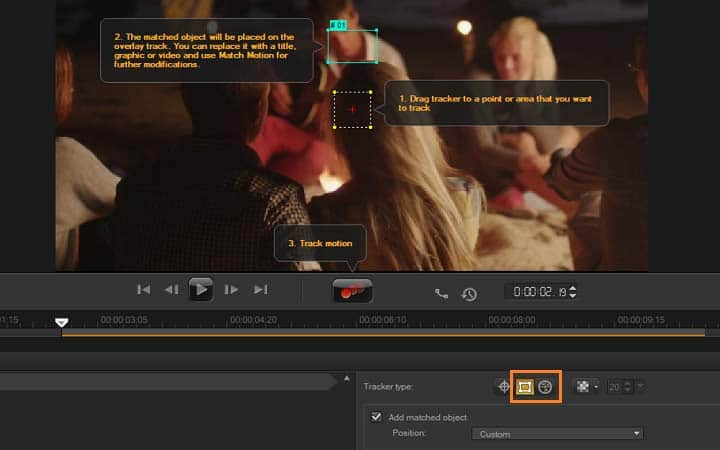 4.

Enable Mosaic blur

On the right of the Tracker types, click the Apply Mosaic icon to enable mosaic blur. After that, choose a mosaic type from the dropdown menu. Depending on your object, choose Rectangle or Circle mosaic and then adjust the size.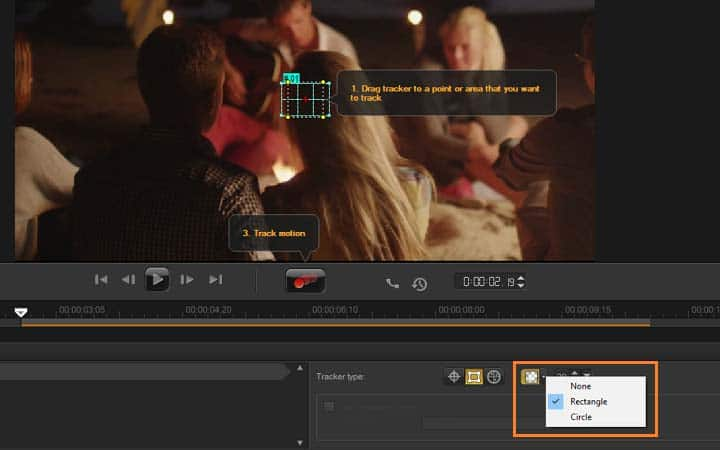 5.

Click the Track motion icon

When all is set, click Track motion. The video will be played on the preview pane and a tracking path will be created. You will notice that the object is blurred as the video progresses. Click OK to finish and go back to the timeline.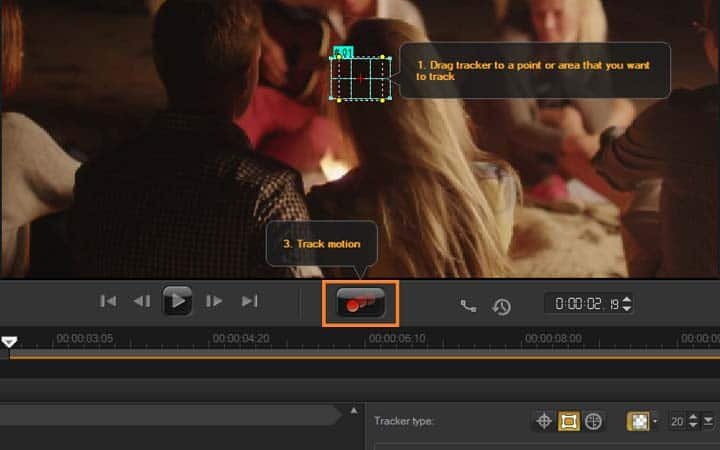 Download VideoStudio and start blurring objects in video today