Bringing photo and video to the classroom
Today's students already speak the language of digital media. As an educator, you need the best tools to tap into this knowledge and harness the power of photo and video in your classroom.
Corel offers all the tools you need to unlock creativity and learning for the digital age. VideoStudio® Pro and PaintShop® Pro provide the latest photo and video-editing technology, making them the perfect solution for media-rich projects such as digital storytelling and the flipped classroom. With Corel's versatile tools, students can share their stories, learn new technologies and develop key visual communication skills.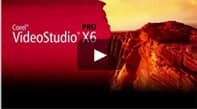 Take advantage of:
Products that promote fundamental learning
Wide-range of free curriculums to choose from
Comprehensive online help and training videos
Extensive built-in learning tools and tutorials
Products
Fast and easy video-editing software
---
Pro-quality photo-editing and design software for your best photos ever
---
---
The world's #1 DVD player software